Back
What is Cesium?
Over the past three and a half years, we at AGI have overseen the development, awesome growth and market adoption of an exciting new technology. Cesium, originally named Geoscope, started out as an internal project to fill the vital need of temporal geospatial visualization over the web with no plugin with keeping a keen eye toward how things move in space and time. No existing technology met our needs to properly convey the complex analysis of all our other products. We made a big bet on WebGL and JavaScript to be the keystones of this tremendous task. Since our technology's differentiator has always been our back end calculations, we made the decision to open source this entire visualization project. Cesium, named for the element used in atomic clocks to accurately measure time, was introduced to
GitHub
. The decision to open source was not taken lightly. It was a significant leap of faith to trust our "visualization as a commodity" mantra which was proved true by the rapid viral adoption of the software. Adding user communication through the
Google Groups forum
enabled needs and requirements to flow in, which gave great insight into value-add, convenience products that could be delivered to make users' lives a whole lot easier. This rapid evolution of creative destruction culminated in the release of Cesium 1.0 this past summer. Removing the beta moniker and giving Cesium a stable, mature API was welcome to many Cesium users as well as a great achievement to the product. We are extremely passionate about open source Cesium's rapidly developing future and our exciting Cesium-based products that directly support our game-changing analytics.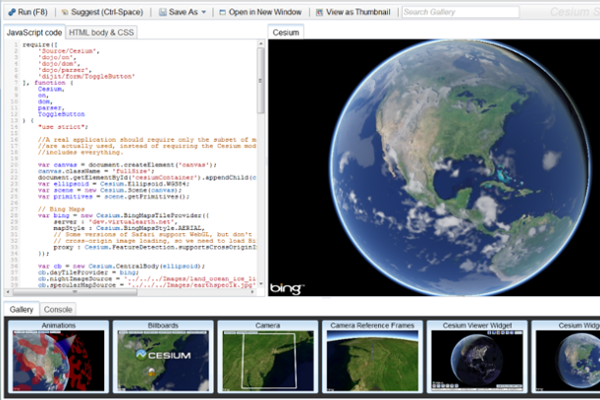 If you want to get started, click the image above to jump to our Sandcastle -- a live code editor and example gallery. It lets you browse examples highlighting features of the Cesium API and edit and run them all in your web browser. Cesium applications created in Sandcastle can even be saved and downloaded. Go to
CesiumJS.org
for more information and
check out these other great demos
. Follow
@CesiumJS on twitter
.