Back
STK Grand Master Certification is Here!
You have been waiting for it… and it is here! The Level 3 – STK Grand Master Certification has just been released! We added a third level of certification after many requests from users who want to get even more proficient in STK.
STK Grand Master Certification expands on the Level 2 Master Certification by breaking STK's advanced modeling and analytical functions into 7 individual tracks focused on different application areas:
Track 1: STK Essentials
Track 2: Analysis Workbench
Track 3: STK Coverage
Track 4: Aircraft
Track 5: Communications
Track 6: Spacecraft Trajectory
Track 7: Space Environment
Upon completion of any track, you will receive a laser-etched glass cube with a randomly-selected STK graphic.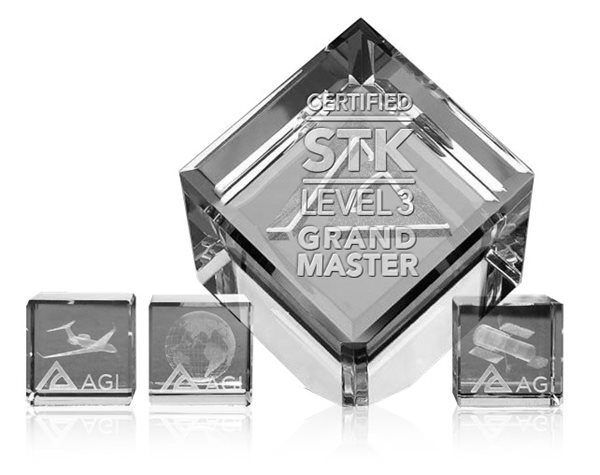 Upon completion of at least 4 of the tracks, you will become Level 3 Certified and receive an large etched-glass sphere. You pick the four tracks of interest to you and you become an STK Grand Master!
If you are already Level 1 – STK Certified and Level 2 – STK Master Certified, register to become a Level 3 – STK Grand Master now! If you are not Level 1 or Level 2 Certified, what are you waiting for? Start on your path to becoming an STK Grand Master!