Back
Home Use Bundle Licensing, or . . . "What's up with the One-Day Expiration Date?"
In this instant gratification world, where demands on our time and energy are often unleashed at lightning speed, we need things fast and we need them now. Well, for the most part anyway. In response to what can be a whirlwind of information, keeping up with changing technology and learning new software and skills, all necessary components of continued success, can be difficult to squeeze into the typical workday. AGI recognizes this and offers users in the United States and Canada access to Home Use Bundle licenses . . . because who doesn't want to play with STK at home, in their pajamas, by the fire.
Home Use Bundle licenses unlock a collection of the most popular STK add-on modules, but like all the best toys, there are a few rules:
Home Use Bundle licenses can be requested only once, but will be valid for six months.
Home Use Bundle licenses are intended to be used at home (hence the name).
Home Use Bundle licenses are for STK learning purposes only, including preparing for and taking the STK Certification test.
Home Use Bundle licenses are not intended for use in the conduct of funded organizational (government, commercial or research) analysis tasks unless previously approved by AGI.
You must have internet connectivity for Home Use Bundle licenses to refresh properly.
To request your Home Use Bundle license, visit us online at: https://licensing.agi.com/stk/evaluation/.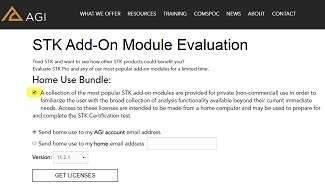 So wait, you say. The rules clearly state that my Home Use Bundle license is valid for six-months. Mine's valid for exactly . . . what does that say . . . ONE DAY. Whyyyyyyyyyyyyy???
Well now, hold onto your astro-loving pants. The answer is simple. Although all on-demand licenses (Home Use Bundle, Educational, Virtual Training) are technically valid for only one day, that one-day license will refresh itself again for another day each time you launch STK while still within the stated license duration.
So, what are you waiting for? Let's get learning!!!!