Back
STK Certification: The fun way to learn STK
Are you already Level 1 and Level 2 STK Certified? Are you looking for a way to take your skills to the next level but thinking there isn't anything more you can do? Well, think again! The new Level 3 STK Grand Master Certification might be right up your alley. Unlike the first two STK Certifications, which cover broad STK topics, the Level 3 certification tests you on different STK application areas by allowing you to choose different tracks based on your areas of expertise or interest. There are 7 in total and if you complete 4 or more, you earn the coveted title of STK Grand Master. The STK Grand Master Certification tracks include:
Track 1: STK Essentials
Track 2: Analysis Workbench
Track 3: STK Coverage
Track 4: Aircraft
Track 5: Communications
Track 6: Spacecraft Trajectory
Track 7: Space Environment
Upon registration of a track, you will receive a list of tutorials that need to be completed with a 5 question quiz at the end of each one. The tutorials dive into specific STK features/workflows and also teach you how to use STK to solve real world problems. You can choose to go through as many tracks as you like. For each track you pass, you will earn a small glass cube with an STK etched graphic on it. Internally, we call these buckeyes (I'm not really sure why, maybe the originator is from Ohio or something) and we earn them for great work or doing something cool. It's an honor to have these displayed on your desk! For some that have more than a few, it's also a sign of being around for a while!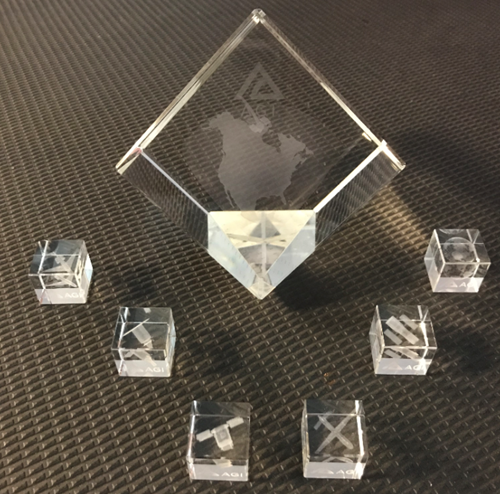 If you decide to take the ultimate challenge and become an STK Grand Master by completing 4 or more tracks, you will get a really large glass cube with an STK etched graphic on the inside to proudly show off to all your friends. When I say large, I mean large. They are about 20 times the size of the small ones! You will also get the opportunity to highlight your achievement by being honored on our website. Meet some of our STK Grand Masters now! But don't worry, if you're shy or don't want your name to show up when it's Googled, you can decline.
STK Grand Masters come from all walks of life, from the student community to industry professionals. They also come from across the globe. We have Grand Masters from the US, Canada, Italy, Australia and more! So get up from your desk, step up to the challenge, and register now!
What's the catch? … Nothing … oh, well wait, you do need to be Level 1 and Level 2 certified to enroll. Good luck!