Back
What do a War Eagle and the ISS have in common?
They both fly over Auburn!
So, I am completely 100% biased, but I think Auburn University is the best school ever. I studied aerospace engineering there and was a campus tour guide, and those things combined perfectly prepared me for my job as a field engineer at AGI. Instead of giving campus tours of a school I love, I give "tours" of amazing software [walking backwards not required].
I recently had the opportunity to go back to Auburn for a career fair. While there Professor Masatoshi (Toshi) Hirabayashi graciously invited me to guest lecture in his orbital mechanics class. The students learned about STK and AGI as a company and built a scenario to see when the ISS would fly over Auburn. Professor Toshi even posted about this event on his website!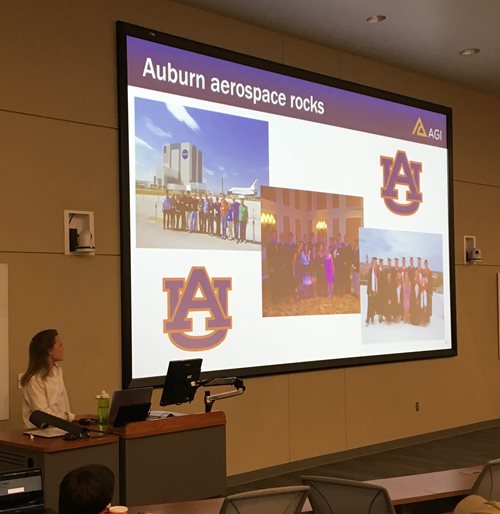 Students can also explore the use of STK in a mission design class that Professor Davide Guzzetti teaches. (Last Spring, students were introduced to STK when the Aerospace department offered a one-hour elective course in STK.)
Click here for just some examples of how you can make use of STK EAP licenses.
Graduating with a knowledge of STK makes you extremely hirable by AGI, which is a great place to work. But even more important is that it makes you more hirable throughout the entire aerospace and defense industry! I did a quick search on LinkedIn recently and over 700 job results came up that were looking for STK skills…wow!!