Back
Great things at ARGoPS Research Symposium
On April 26th- 27th, 2019 the Astrodynamics Research Group of Penn State held their second annual ARGoPS Research Symposium. They brought together speakers from all over the country with a variety of expertise to discuss:
Recent Advances in Dynamical Systems Theory
Space Situational Awareness
LEO to Lunar Halo Orbit Optimization
And much more!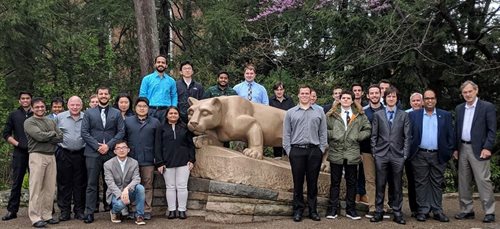 AGI's own Dr. Pradipto Ghosh went to speak about Gaussian Process Regression Modeling of Solar Electric Propulsion Throttle Tables (now that's a tongue twister!). Both professionals and students shared their passion through presentations of their research in an effort to advance the future of astrodynamics as a community.
AGI is proud to have been a sponsor of the ARGoPS Research Symposium. AGI's Educational Alliance Program (EAP) has been focused on introducing students to current and future technology to help prepare them for their careers. At this symposium, students were able to meet with professionals and learn more about what is happening in the field. Discovering the latest and greatest technology allows them to figure out how they, too, can contribute to the growing industry.
After such a successful event, Coordinator Jason Reiter is looking to expand the event next year. One option is to have students complete mission challenges over the course of the weekend with the EAP's free offering of STK. We can't wait to find out and be a part of it!