Back
Managing Catalog Data and Query Features in the Aviator Catalog Manager
Have you ever wanted to sort the Aviator catalog objects to find the waypoints closest to an STK facility, look up all the navaids within a given boundary or distance, or turn catalog waypoints into STK objects? Now users can perform multiple queries and functions on catalog data sets within the Aviator Catalog Manger.
The Aviator Catalog Manager is a utility that allows you to view the contents of catalogs, create new items, copy or edit existing items, and search for specific items. You can access the Aviator Catalog Manager from the Utilities menu within your scenario, regardless of whether there are any Aviator objects in it.
When you open the Aviator Catalog Manager, the hierarchy tree of catalogs and items appear on the left, and the properties of the currently selected catalog item, if one is selected, appear on the right. In addition to catalog items installed with or created inside of STK, Aviator can read data from DAFIF and ARINC424 catalogs. ARINC424 data files are the only valid data sources for navaid and airport sites. In addition, you can use ARINC424 data to define runways, waypoints, and VTOL point sites. The ARINC424 Master Data File is located here within the STK install: C:\Program Files\AGI\STK 11\Data\Resources\stktraining\samples\FAANFD18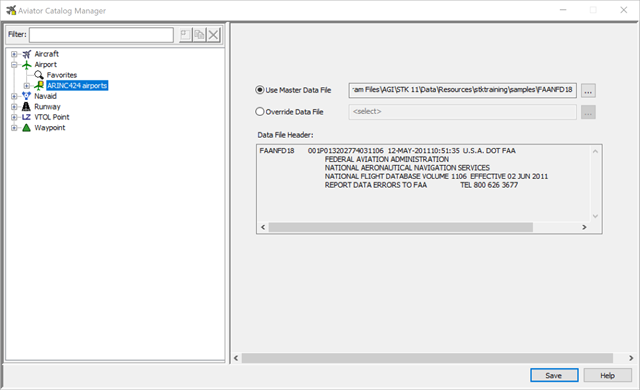 To create a query on a catalog:
⦁ Right-click on the magnifying glass Favorites item
⦁ Select Add/Remove View Items
⦁ Click on Add Query
⦁ Select your desired query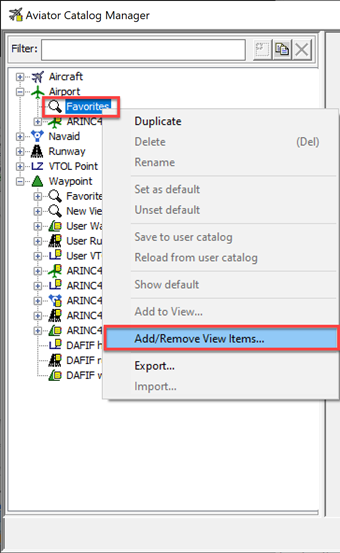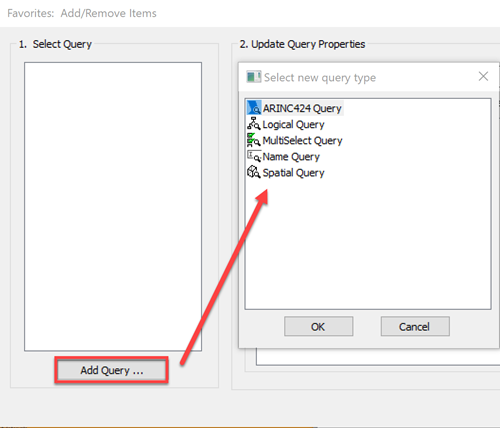 To convert catalog waypoints into STK objects:
⦁ Right-click on the magnifying glass Favorites item
⦁ Select Create STK Objects from waypoints
⦁ Select your Type of object: Facility, Place, Target
⦁ Select your desired color
⦁ Add the objects to an existing constellation in your scenario, if desired.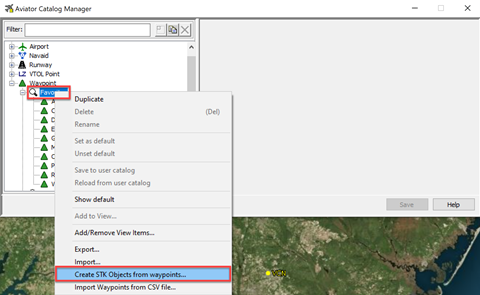 The user can also use Export/Import package (.eximpkg) files to transport all of the items from one catalog to another. Use the Export and Import right-click commands on the appropriate data sources to create or load these files.
For a walkthrough video that highlights these capabilities and more, see this Knowledge Article.