Back
Volumetrics: Exploring the Latest in Spatial Analysis
For an in-depth discussion and a chance to get hands-on with this new tool,
join our STK 11 Virtual Training – Volumetrics
on
February 10 at 11:00AM EST
. STK 11.0 introduces the first release of
Volumetrics
, which defines custom 3D volumetric grids in any coordinate system, and applies spatial calculations to that grid. STK users can solve a whole new variety of problems, regardless of their application area. Volumetrics can be applied to such diverse problems as aircraft body masking, RF & Jamming, Space Environment, Launch Window and space surveillance.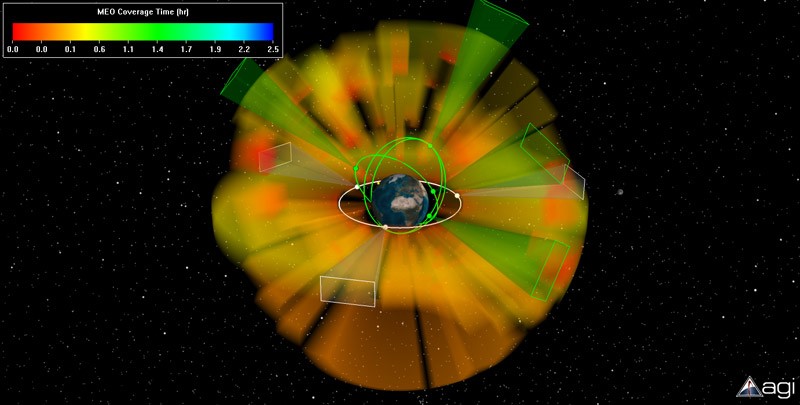 Volumetrics, which has been in development for several years, is the result of multiple feature requests from customers looking for various aspects of 3D analysis and visualization inside of STK. However, each of the requests had a particular use case in mind, which had its own unique and sometimes competing requirements. One of the biggest challenges was to make the tool flexible enough for all users, while addressing each of the use cases with minimal user effort. The solution is a combination of the
Analysis Workbench
(AWB) and Coverage modules. Introduced with STK 10.0, AWB allows users to build custom geometric, temporal and logical operations through a graphical user interface to extend STK's modeling and analysis. AWB has three major tools, each of which is a fundamental building block of the entire STK framework:
Vector Geometry Tool – Used to build custom vectors, points, angles, planes, axes, and coordinate systems
Time Tool – Manage any time instance, interval, or interval collection as a named entity for use in STK
Calculation Tool – Combine STK data with algebraic, functional, and calculus operations
Volumetrics introduces a fourth tool called "
Spatial Analysis Tool
," allowing users to create calculations and conditions dependent on locations in 3D space which are, in turn, provided by user-defined 3D volume grids. The Spatial Analysis Tool works in concert with the existing AWB tools to provide the ultimate flexibility for users to apply Volumetrics to a wide variety of applications. Although Volumetrics is a separate workflow, it inherits a lot of its capabilities and principle from
STK Coverage
. The workflow introduces a new Volumetric object type that enables detailed control over the grid and associated spatial calculation, which are generalizations of features that can be found in Coverage. It also provides updated display options, including the display of the contour levels and translucency of fill or boundary graphics. Several other display improvements are available including the ability to view the volume from any cross section, displaying grid points and grid lines, an updated legend, and ability to interrogate any of the grid points by double-clicking in the 3D graphics window. AGI engineers have put together some
great example scenarios
that show off Volumetrics, and we're excited to see what our customers do with these new capabilities! Please contact us at
info@agi.com
to learn more about these new capabilities.