Back
Customizing an aircraft with STK Aviator
Have you ever wanted to put your own custom aircraft into STK but thought that involved tactical data or some type of plugin? With STK Aviator, you can create a highly realistic model by just defining the various flight profiles and flight envelopes. Don't have all the information you need? You can also start from a pre-defined aircraft.
Using the Standard Object Database (requires online connectivity) you can search for Aircraft that already have a definition. If you find what you're looking for, such as a Global Hawk, that's great. But what if you want the naval variant, the Triton? You can start with the Global Hawk (or other AV) as a base.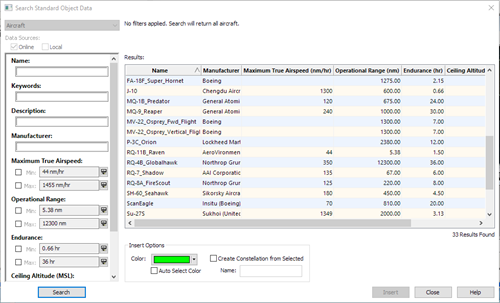 Once you have the aircraft in your scenario, open its Properties window. With Aviator as the propagator type, under Initial Aircraft Setup, click the airplane icon to open your catalog. Select the air vehicle you want to modify and select the properties icon.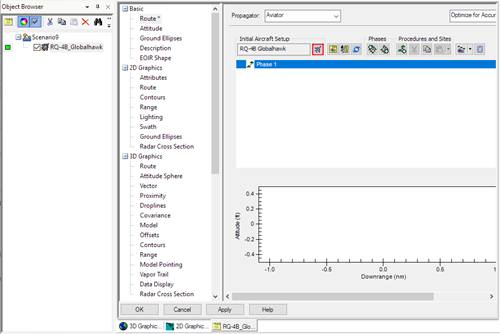 Here you'll be able to review the current definitions for the various segments of flight including climb, cruise, and descent. With a brochure as your reference, you can easily tweak the values you want to make the definition in STK more representative of your aircraft. Aviator takes this information into account when you create a route and will determine if the route you are creating is physically achievable. If you have a 3D model of your aircraft, you can set that as well to be shown by default any time you create an aircraft of this type in a scenario.
With just a few steps, you'll now have a model of your aircraft that flies more realistically than the default airliner's flight profile.