Back
Explore and Share Scenarios on the STK Data Federate
You set aside your lunch break to get started with STK, you created an agi.com web account, downloaded the install, and registered for a free STK license. While chowing down you followed along with the Fundamentals tutorial videos.
An hour later you're creating STK objects, computing access, returning numbers, and your keyboard has tuna on it. Congratulations! Now with Level 1 under your belt (which you had to loosen), you're all tutorialed out. What's next?

While there's no substitute for completing the Levels 2-3 training, you may only need some of it for your specific STK use case. If you want to fast forward you can explore and download scenarios hosted on the public STK Data Federate in three (3) easy steps…
Verify STK is online. Look at that bottom of the STK Window, if there's a green Online Ops () symbol this indicates and you're not alone! Don't see it? See Troubleshooting.
Click the Open a Scenario button.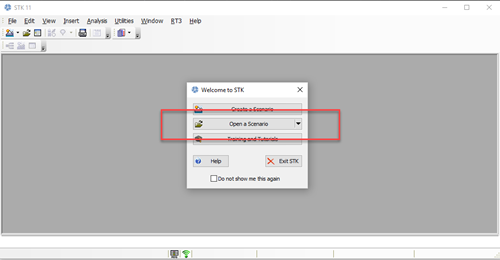 Open a Scenario from the Data Federate
Click the STK Data Federate Button.
Select the Browse Tab.
Select a scenario from one of the Site folders.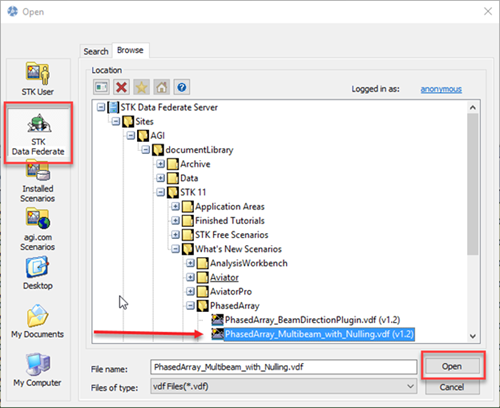 In this example we expanded Sites/AGI/documentLibrary/STK 11/What's New Scenarios/Phased Array folder and selected the second scenario. If we right-click on a given scenario you'll find Details and a Description to help you choose.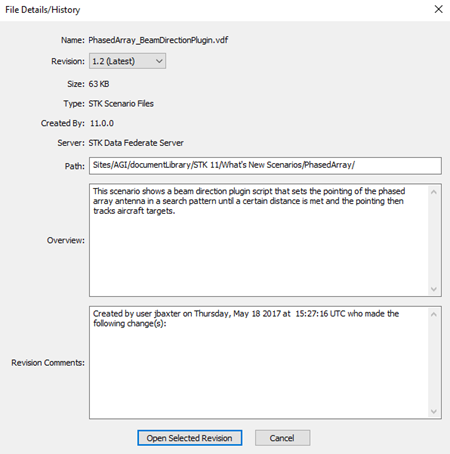 When ready, click the Open Selected Revision button.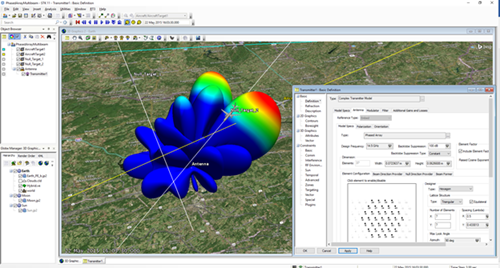 Save a Local Version of the Scenario
If you want to save a personal copy of this example for offline, see the steps to save a scenario from SDF. The quick summary is:
Extend the File menu and select Save As.
Click the STK User Button on the left.
Select a folder that is the same name as scenario.
Set the Files of Type from *.vdf to *.sc.
Click Save.
Click Yes to allow STK to overwrite any previous data.
Collaborate with Support
Having a hard time with something in your scenario that doesn't work? Sharing a scenario to the STK Data Federate helps us help you. Email support@agi.com to request an SDF User Account. In addition to the AGI Site, there's also an agi-support Site. Here we have two folders.
User Collaboration: where Support shares its scenarios with the world.
30-day Temp: where users can upload or write their scenarios that capture their question or problem for tech support.
Save your scenario to the public STK Data Federate.
Extend the FIle menu and select VDF Setup to prep your scenario (optional)
Extend the File menu and select Save To Data Federate.
Beside the Logged in as option, click Anonymous and enter the new credentials.
Browse to 30-day Temp and click Save.
Provide a summary or add comments.
Click Check-in.
Last you will be presented with a convenient option to capture a shareable link to share your scenario with others.