Back
Explore the Great USA with STK!
Dust off those hiking boots, spiffy up your kayaks, and pull out your tents, Fourth of July weekend is here and it's time to get outdoors with STK. Many states have started providing geospatial content on their websites and it's extremely easy to bring that content into STK and start planning your next outdoor adventure. For example, Pennsylvania has tons of geospatial data for hiking trails, fishing spots, state forestlands, public parks, and more. It's all here at https://www.pasda.psu.edu/ under the Recreation link.
Last summer I used STK to plan a backpacking trip on the Black Forest Trail and now I'm planning my next trip on the West Rim Trail in Pennsylvania's "Grand Canyon". There is nothing like psyching yourself out before a big trip by following your planned path in STK with streaming terrain; look at all that elevation gain, yikes! No worries though, it will be fun! So here's how to start bringing your weekend adventures into STK.
First, I downloaded the Explore PA trails - Trails (line) kmz data from here. Then, in a new STK scenario, I brought in the KMZ data through the Globe Manager: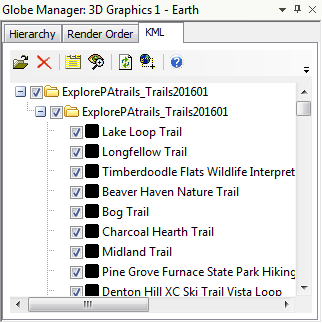 (Look at all those trails in the Keystone State! Many are not far from AGI's headquarters right here in Exton, PA!)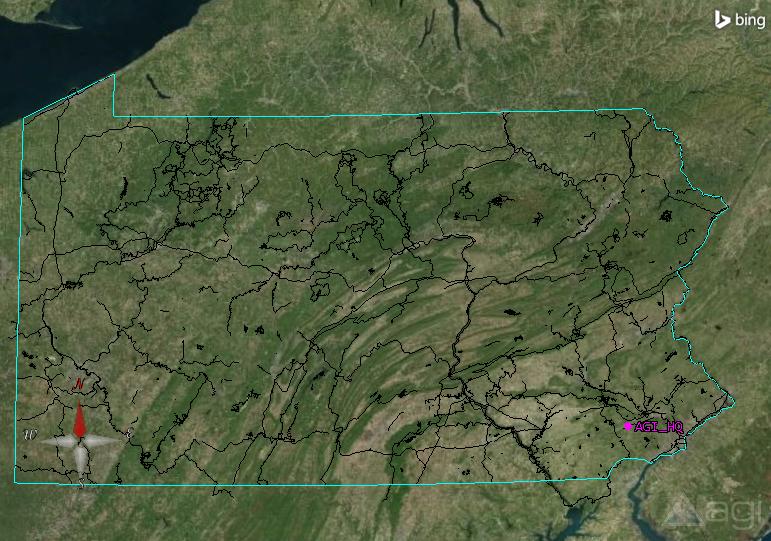 Then, I can then add the specific trails that I am interested in as STK line track objects by right clicking on the trail in the Globe Manager and selecting "Import all geometry". I'll focus on the West Rim Trail, a 30 mile hiking trail located adjacent to the Western Rim of Pennsylvania's Grand Canyon.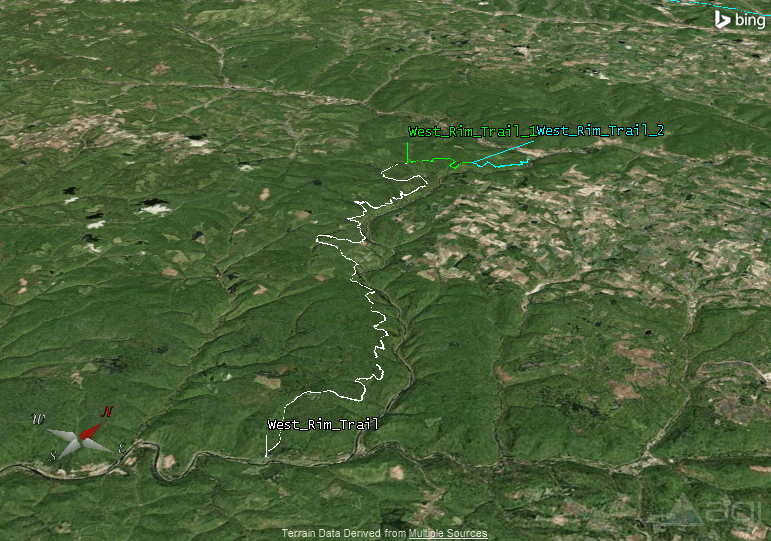 You can even set an STK Ground Vehicle object to follow your trail. Go to Insert > New and select "Ground Vehicle". As the method, select "Create from Existing Line Target" and choose your trail. Here we are at the trailhead.
Lastly, all that's left to do is convince your friends to join you on an epic adventure. They may not be lucky enough to have STK, but I bet they have an internet browser. All you need to do is export your scenario using the CZML Exporter and then you can view it in Cesium, an open source web-based 3D globe. Follow these instructions for the CZML exporter then just drop the CZML file you create into Cesium Viewer. Watch this virtual training to learn more about Cesium and the CML Exporter.
Speaking of Cesium, while you're on your adventure you can even record your GPS tracks and bring them into Cesium for the ultimate trip scrapbook. Check out this Cesium-based trail log from the website RikiTraki.