Back
Modeling Aircraft Missions and Air Warfare with STK Aviator Pro
On Jan 24, 2018 Tom hosted a webinar demonstrating how to leverage Avaitor Pro for a wide variety of aircraft and air warfare missions.
It's an exciting time for aviation enthusiasts with all the recent programs such as F-35 Lightning II, Next Generation Jammer, and B-21 Long Range Strike Bomber. The technological advancements in aircraft systems has been remarkable over the last few years, for the United States, as well as our allies and adversaries. As a result, the ability to rapidly model, simulate, and analyze the performance of these systems in a realistic battlespace environment has never been more important.
As the creator and lead developer of STK Aviator, I continually rely on my experience as a former Naval Aviator who flew F-14s with Aero and EE graduate degrees who understands tactical aircraft operations and the detailed engineering aspects of weapons systems. I also know how important it is to wrap all that knowledge up in sophisticated, yet easy-to-use computer form factors.
With the release of STK 11.0, AGI released the 3rd generation of STK's Aircraft Mission Modeler called STK Aviator and the advanced Aviator Pro. Aviator and Aviator Pro allow users to quickly model, simulate, and analyze any type of aircraft mission, which is then accessible to the rest of the STK environment to include terrain, RF, and other impacts on the overall mission.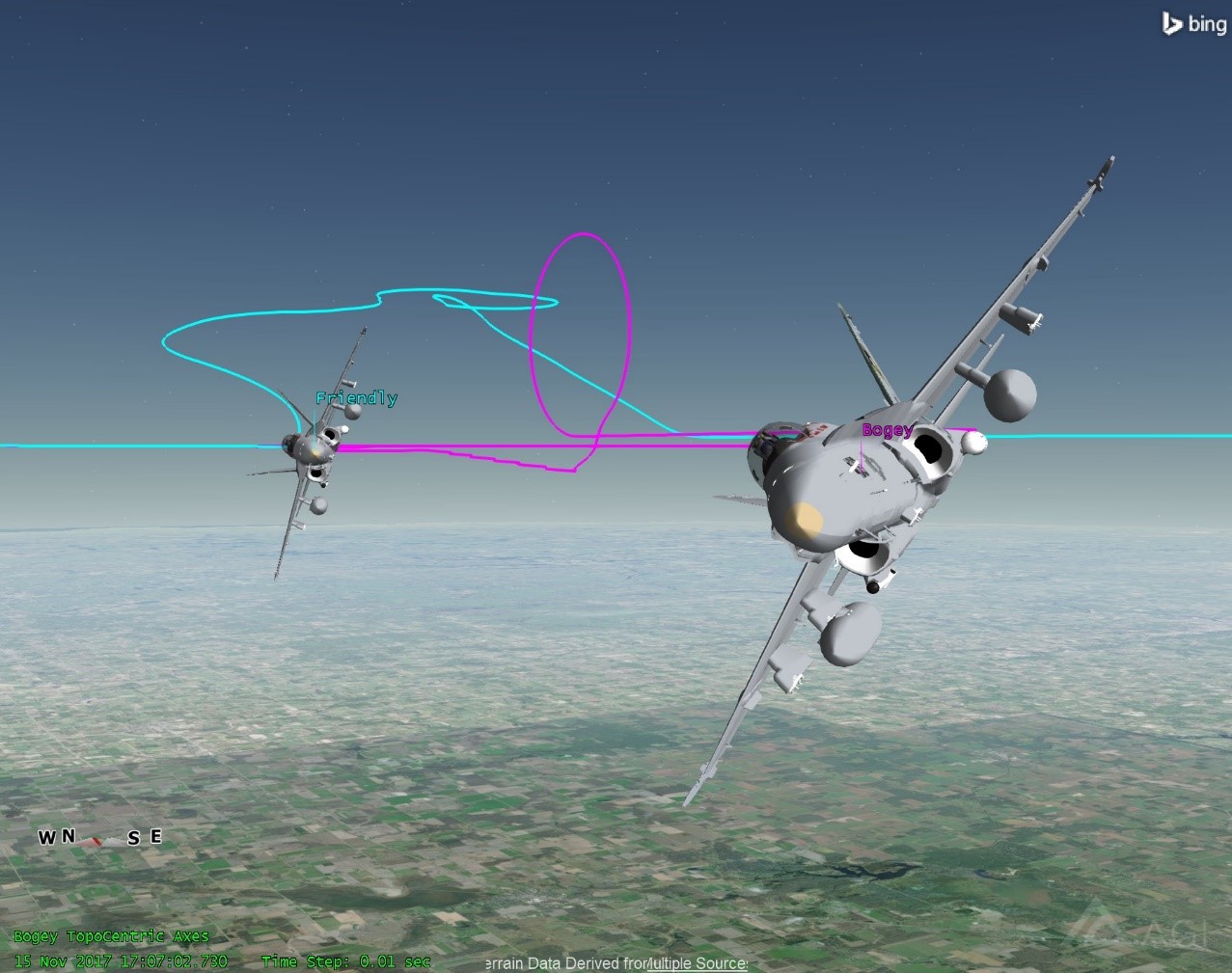 Since the release of STK 11.0, we've added even more capabilities to Aviator Pro that take your aircraft missions, and air warfare missions in particular to the next level, including:
Advanced Maneuvers

Stationkeeping
Relative Bearing
Intercept
Rendezvous/Formation
MATLAB Proportional Navigation

Advanced Flight Performance Models

Missiles
Helicopters and quadcopters
Linking to the same performance models used as part of JMPS (Joint Mission Planning System)

Air Combat Simulation Tool

Enables two aircraft to dynamically maneuver against each other using customer-defined tactics, seekers, countermeasures, etc.
Note: For users in the U.S. who pass the required export check (ITAR), the Aviator Pro license also supports a family of Guidance Strategies for quickly building realistic missile trajectories.