Back
New STK Product Supports Aircraft Flight Test and Evaluation Process
The new STK Test and Evaluation (T&E) Tool Kit assists from test plan creation through mission briefing to post-test analysis and verification.
Overview:
Features:
Test Plan Creation
Design more efficient tests by employing our high fidelity aircraft performance models, line-of-sight analysis capabilities, and RF propagation tools. These combine to an enable the construction of various test geometries and the evaluation of expected measures of performance. You can also coordinate the timing and position of all dynamic and stationary test assets (ownship, wingman, refuel tankers, ground targets or emitters, etc.) by simulating them all in a common environment that includes the local terrain and atmospheric models.
Mission Briefing
Communicate test objectives to all participants with visualizations of key test points along the flight. Use the STK 3D animation environment to review the flight plan and highlight specific areas of interest, relative positioning of key members of the test, and the flow of events through time.
Flight Analysis
Increase your understanding of post-test events extracted from the collection of data generated in each test. STK provides tools to import data from user-specific file formats, displays it in a time dynamic 3D environment, and evaluates the various measures of performance. Existing flight analysis workflows include drawing sensors and track measurements in 3D space, finding specific events in the data, comparing geometric results from various sources, and identifying targets from measurements.
Video Guidance
We have video tutorials that can help a user get up and running with the software.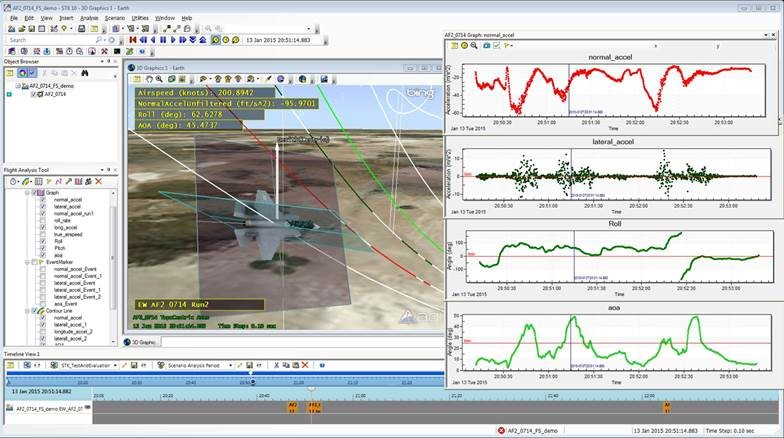 For more technical information, check out our T&E Tool Kit brochure.