Back
STK 11 Example Scenarios - The Art of the Possible
It can sometimes be overwhelming to create a new scenario in STK. After all, STK has been in continual development for the last 27 years, and has over 7 million lines of code, so there is a TON of capability at your finger-tips. Fortunately, STK 11 provides a variety of resources for new and expert users.
Although there are many ways to learn how to use STK (exploring video clips, going through tutorials, etc), I want to highlight one of the available resources in this blog; the example scenarios. I like browsing examples when using different programs because I can see what other people have done so I can get an idea of the art of the possible.
Although you can load these example scenarios directly from STK by clicking the "Open a Scenario" button, and then selecting the "agi.com scenarios" button, I prefer to look at them from the example scenarios webpage on agi.com because I can see everything in a single view. Plus there are links to overview documents that I can skim before committing to downloading the scenario.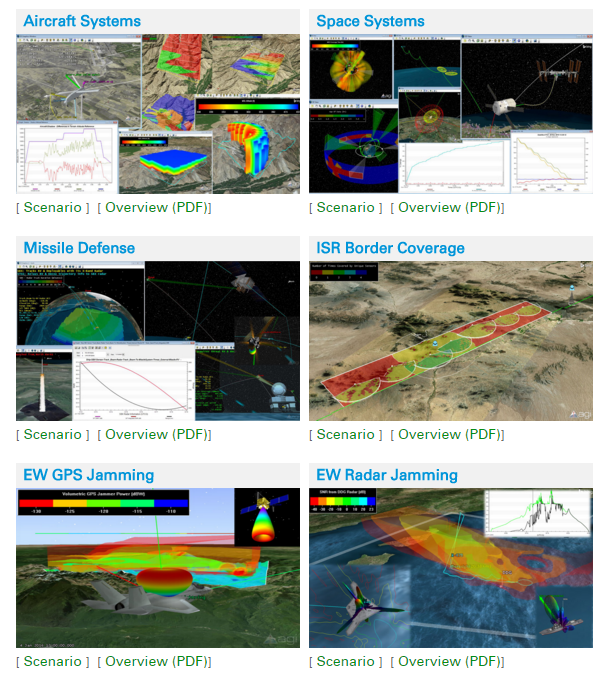 There are several types of example scenarios:
Scenarios that work with the free version of STK
Solution Area scenarios that combine several add-on modules for different solutions areas such as Aircraft Systems, Space Systems, Missile Defense, ISR, EW GPS Jamming, and EW Radar Jamming.
What's New scenarios that highlight the latest features in STK 11
Archived Scenarios – Oldies but goodies from previous versions of STK
So if you ever find yourself looking for examples that show the art of the possible, make sure to check out the online example scenarios. It can be a little intimidating creating your own scenario, but if you can leverage the 27 years of development and seven (7) million lines of code to your advantage, the end result can be extremely rewarding.