Back
STK Cloud Subscriptions Now Available!
STK Cloud is software as a service that makes Systems Tool Kit (STK) immediately available in your browser. We're excited to announce that you can now purchase STK Cloud subscriptions from stkcloud.agi.com.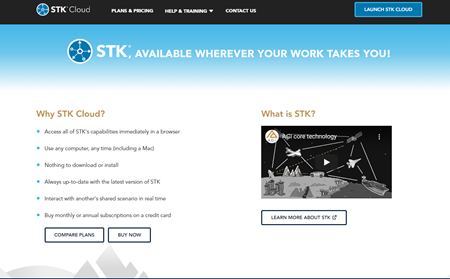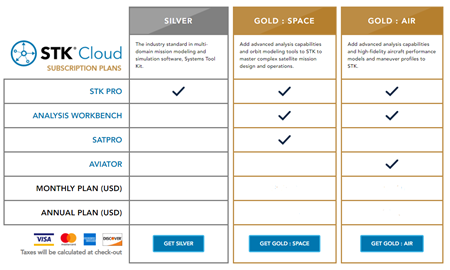 STK Cloud offers significant advantages to many customers:
Mobility — all you need is an internet connection.
Flexibility — run STK from a computer with any operating system, including MacOS.
No Hurdles — don't get held up by restrictions on installing and upgrading software.
Simple for Education — teach with STK without installing and licensing software.
Easy to Evaluate New Versions — try the new version of STK before upgrading.
STK Cloud is a virtualized desktop environment that provides the STK desktop experience, optimized for use in the cloud. In addition to STK, STK Cloud provides Google Chrome, Notepad, and a Python scripting environment directly within the virtual session.
STK Cloud works with the STK Data Federate (SDF) to provide secure, cloud-hosted content management. Your scenarios, models, and related files are accessible anywhere you work.
Finally, STK Cloud's single sign-in enables you to access all elements of the service — agi.com, STK, Geospatial Content Server, and the SDF — with a single account.
How to Get Started
You can try STK Cloud with a free trial. All you need is an agi.com account. The trial includes access to the following modules:
STK Professional
STK Analysis Workbench
STK Analyzer
STK Coverage
STK Communications
STK Radar
STK TIREM
STK SatPro
STK Astrogator
STK Conjunction Analysis Tool (CAT)
STK Aviator
STK EOIR
Training participants can use STK Cloud for most of AGI's live, instructor led training classes. You will be given direct access to STK Cloud on the day of the training and for 3 days afterwards. And, you will also be provided an SDF account where you can store your content indefinitely.
To get started, we suggest taking a look at the Help and watching this Getting Started video. The video will show you how to work in a virtual environment, work with the STK Cloud interface, and save and transfer files to and from the SDF.
Check out stkcloud.agi.com to learn about subscription options and sign up. If you have any questions, please email support@agi.com, or call 1-800-924-7244.